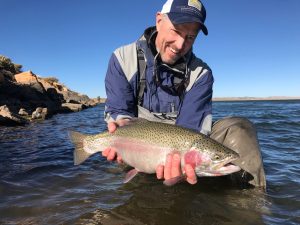 It is that time of year again. Hold up… if you are an angler you had better know what time of year it is. And isn't announcing the time of year sort of dipping in to the realm of scrapbooking and knitting? (Of course we do know some incredible fly fishing knitters out there.) If you are still snowblind from the gnarly winter that steamrolled its way through the eastern half of the country, it may be tough to realize that it is really time to get on the water. (Which we are not going to tell you, because you already know.) We know you have been drooling over social media posts with anglers proudly displaying trout, knee deep in a pre-runoff river, not a patch of snow in sight. Well that, my friend, is how it is up here in Colorado right now, bluebird skies, cool nights and epic days on the trout stream.
The Action Is Just Getting Jacked Up
You may be wondering what we do up here in beautiful Estes Park home of Kirks Flyshop all winter. Well, we tie thousands of flies and we fish. Up here a bit of snow can't stop a rainbow from chomping down on a nice fat nymph and our guides live for that. Which is why we get you on the fish, we know our rivers and our private water. Spring is an amazing time to catch big trout, that is, until the runoff turns the water into churning hydraulics of whitewater, the color of bean with bacon soup. (Man that is some good soup.) Never fear though — we can still get you into the action. Spring is the ideal time to consider one of our private waters options. Regardless, you will catch fish.
This Is Your Year
Many of us have our New Year's resolutions in the rearview, barely visible among the pizza boxes and cupcake wrappers. That being said, spring is a time for rebirth and a time to make goals for how awesome the summer is going to be. If you have never been fly fishing in the Rocky Mountains, it is truly a trip of a lifetime. At Kirks Flyshop we cater to the expert trophy hunter as well as the eager beginner. We can take someone who has never held a fishing rod, to a seasoned angler, with trout on the brain. Catching trout is a spiritual experience, particularly when you are using a tiny imitation of a bug, and a level of finesse that is absent from most activities. We can't wait to get you hooked on fly fishing, but don't say we did not warn you.
DIY Fly Fishing

For some of us, getting out there to try your luck on your own is a dream in itself. Using your wits to outsmart the rainbows lurking in the pools or matching the evening hatch in a high mountain lake is the ultimate in DIY fishing. But where do you go and what about equipment? No need to worry, Kirks Flyshop is the perfect place to pick up flies, rods, waders and anything else you might need. We stock everything you could possibly need for a day on the water. What if you don't want to commit to buying your own equipment? Easy. Kirks is the area's number one rental equipment outfitter. We can hook you up with an entire setup that would make Brad Pitt jealous. We can recommend quality trout waters to wet your line and set you up with a box of hand tied flies that are proven to attract fish. Heck if you just want to look like a fly angler for social media pictures we can get you fully outfitted and point you to the river. There you can splash around, put on that bunny ears filter and selfie away. Not that we encourage that sort of thing but hey – to each their own.
Book Your Fly Fishing Vacation Today!
So if you are ready to fish this spring and summer it is time to plan your Rocky Mountain getaway with Kirks Flyshop. We have a wide variety of packages available and even offer the opportunity to horseback ride to some spectacular hidden lakes. So browse our website or give us a call today and we can set you up with the trip of a lifetime. Of course you may not have any interest in fly fishing and that's cool, we get it, but you may have that special relative or friend who has always longed to learn to fly fish. In that case, make someone's dream come true with a gift certificate or a surprise trip to Estes Park for a few days on the river. We can't wait to see you this spring and if you are in Estes Park swing by the shop and say hello! Let's make this summer one to remember!