The options to fly fish Colorado are varied and offer opportunities for high quality fishing statewide while still providing breathtaking Rocky Mountain scenery. Across the state, there are popular destinations to fly fish Colorado as well as off-the-beaten-path fisheries that can provide excellent fly fishing for Rainbow, Brown, Cutthroat, and Brook Trout. While it's nearly impossible to include all of the places to fly fish Colorado, we curated this list to help guide you to quality fisheries and check more rivers off your fly fishing bucket list.
The Colorado River has all kinds of different fly fishing opportunities and is one of our favorite rivers to fly fish Colorado. Brown trout, Brook Trout, Rainbow Trout, Cutthroat Trout, and even Cutt-bow hybrids can be found from Rocky Mountain National Park all the way to Ruby Canyon and Fruita. The stretches from Kremling down to Fruita are best fished on a guided Colorado River fly fishing float trip with an experienced guide. A must-do for any angler visiting to fly fish Colorado, the headwaters in Rocky Mounain National Park offer some wonderful fly fishing with stunning mountain views and wildlife sightings to make for a memorable experience.

2. South Platte River Fly Fishing
A quintessential Colorado fly fishing destination,  the South Platte River is known for its extremely abundant population of Brown and Rainbow Trout. With fish more than 20 inches, and an abundance between 14-20 inches, a lot of the fish are larger in size. You may find the very occasional Cutthroat in here, as well. Cheesman Canyon, 11 Mile Canyon, and Deckers are the most popular areas to explore and should be checked off your fishing list. For those visiting Colorado's largest metropolitan area, the South Platte is a short drive from Denver, making it an easy destination to fly fish Colorado while visiting for other reasons.
3. Arkansas River Fly Fishing
The Arkansas River is prime territory for big Brown Trout, as well as Rainbow Trout, that love to feast on the massive caddis hatches that this river is known for. From Buena Vista through the Royal Gorge, this is a premier destination to fly fish Colorado and should be noted in every Colorado fishing vacation itinerary. In the winter months, the Pueblo Reservoir tailwater is a go-to spot for front range anglers looking for some action.
4. Rocky Mountain National Park Fly Fishing
Rocky Mountain National Park offers many rivers and high mountain lakes full of wild Rainbows, Browns, Cutthroat and Brook Trout. Most of the high mountain lakes offer fly fishing to brilliantly colored cutthroat trout, the sensation of catching one of these beautiful specimens in full view of the spectacular mountain vistas is something that you will never forget. The many rivers of RMNP hold multiple species of trout, some of which you can catch the Colorado Grand Slam in, like the Big Thompson, Glacier Creek, Colorado and Fall River. The summer in the park brings a great many days of brilliant dry fly fishing. For the most up-to-date reports, call our Estes Park fly shop.
5. Gunnison River Fly Fishing
The Gunnison River is the state's second largest river. In the waters of the Gunnison, you'll find record size Brown and Rainbow Trout, and even Kokanee Salmon during their fall spawning run. Famous for its legendary salmonfly hatch and the Black Canyon National Park section, the Gunnison is a beautiful fishery with towering canyon walls and dynamic runs. Fished on foot or by boat, the "Gunny" is a premier fly fishing destination for all and should be on every angler's bucket list.
6. Taylor River Fly Fishing
Just up the road from the town of Gunnison, the Taylor River flows into the Gunnison River and is an extremely good tailwater fishery. In the winter, the hardy fly fisherman of the area brave the cold to have a chance at a record size Brown or Rainbow Trout below Taylor Reservoir. While the Taylor River can provide some spectacular fly fishing in Colorado, prepare to put your skills to the test as this is a popular tailwater fishery. Small flies and tippets are helpful, but a well-placed cast and drift will make the difference.
7. Roaring Fork River Fly Fishing
The Roaring Fork starts its journey above Aspen Colorado and winds its way down to Glenwood Springs. Providing a variety of different kinds of water from high banks and long runs to boulder gardens and pocket water. The Roaring Fork has it all! Primarily known for its many Brown and Rainbow Trout, it does have some Cutt-bows, as well. Below the town of Basalt, it is best fished from a boat on a float trip. Whether you're on foot or floating, you can access the river in and around Aspen, Basalt, and Carbondale.
8. Frying Pan River Fly Fishing
The Frying Pan River is a local favorite near Basalt that runs from Ruedi Reservoir to its confluence with the Roaring Fork. This clear, cold tailwater is known for its abundant population of Rainbow and Brown Trout, providing a challenging and rewarding fishing experience, especially for anglers that prefer dry fly fishing. Some of the most popular and productive fishing holes include the confluence with the Roaring Fork River, the Upper Basin, the Lower Basin, and the section of the river near Ruedi Reservoir.
9. Yampa River Fly Fishing
The stunning Yampa River is home to a diverse range of fish species, including Rainbow, Brown, Brook, and Cutthroat Trout, offering anglers of all skill levels a challenging and rewarding Colorado fly fishing adventure. With its clear and cold waters, breathtaking mountain scenery, and abundant wildlife, the Yampa River near Steamboat Springs is a top destination for fly fishers across the US. Some of the best areas include the upper Yampa River, the Sarvis Creek area, and the Elkhead Reservoir area. Additionally, the stretch of river below the Stagecoach Reservoir and the Lower Yampa River near the Colorado-Utah border are also known for their large populations of Colorado trout.
10. Blue River Fly Fishing
The famous section of the Blue River starts at the Dillon Reservoir and flows through the town of Silverthorne. On the upper end, experience a semi-urban fishery with shots at large trout feasting on the prolific insect populations typical of a Colorado tailwater fishery — a perfect rest stop and place to stretch legs (and your line!) on a trip along interstate I-70. As you leave town, the river takes on classic Colorado fly fishing river characteristics. The stunning scenery and exceptional trout fishing make it a top destination for anglers who want to fly fish Colorado.
11. Animas River Fly Fishing
The Animas River flows through the outdoor-centric town of Durango. From town to its headwaters, experience quality fly fishing for Brown and Rainbow Trout. Some of the best spots to try include the lower sections near Durango, the Purgatory area, and the Upper Animas River near Silverton. Additionally, the Santa Maria and Hermosa Creek areas can be productive.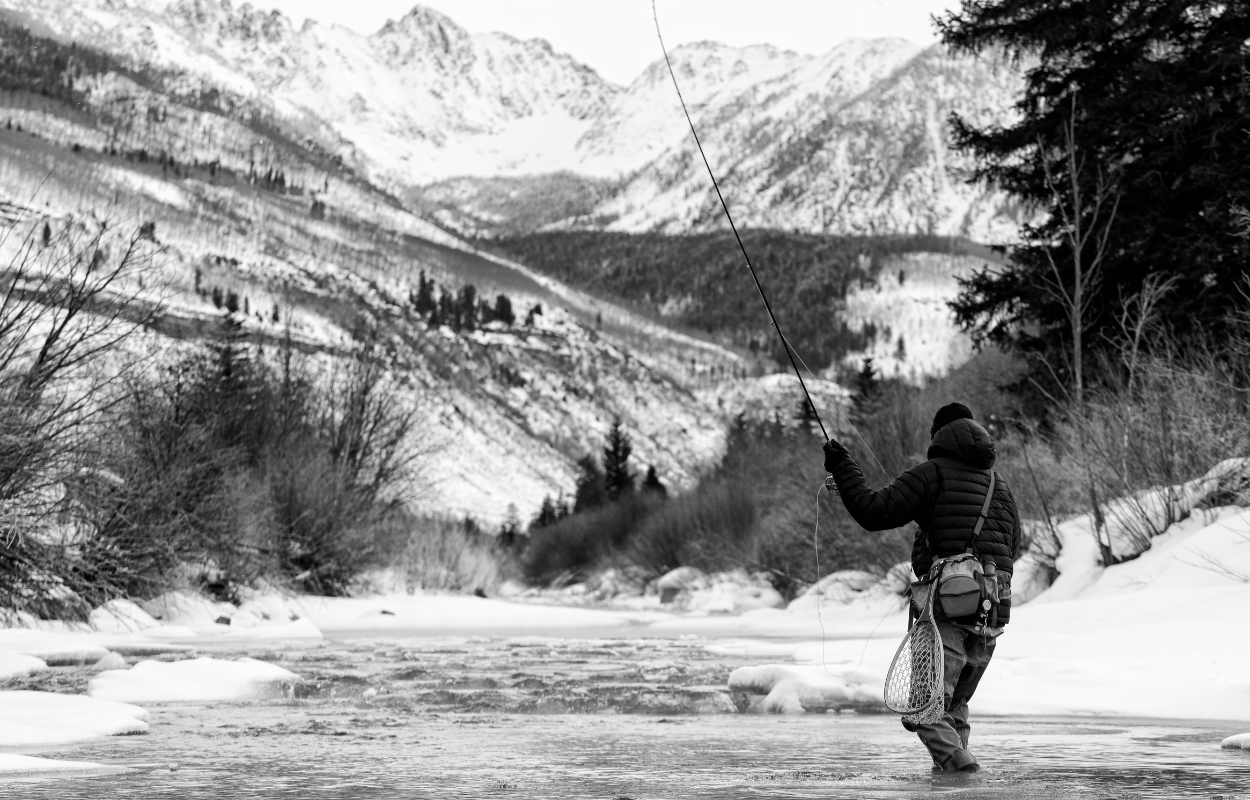 12. Gore Creek Fly Fishing
For those who want to fly fish Colorado and experience a true Rocky Mountain setting, Gore Creek is your place. Situated near Vail Ski Resort, the creek is easily accessible and offers a variety of fishing opportunities, from fast-moving riffles and runs to calm and secluded pools. Whether you're an experienced angler or just looking to experience the beauty of the Rockies, fly fishing Gore Creek near Vail is a must-do activity.
Have questions about fly fishing in Colorado? Give our Estes Park fly shop a call! We're happy to help you with your trip to fly fish Colorado.