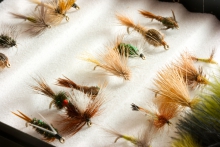 Nymph fishing can be challenging if you are not a skilled fly fisherman. At Kirk's Fly Shop, we can help instruct you in a variety of Colorado fly fishing techniques. In the meantime, here are some tips for how to improve your nymph fishing:
Do not look away, even for a moment  
A trout can take your nymph at any moment, and somehow, they always seem to know when you look away. Never assume that you can take a moment to look away; during your fly's drift, a trout can snatch it at any time. Keep your eyes on the strike indicator.
Strike immediately
When you do see the indicator move, you must strike immediately. Your reaction time is incredibly important here, because by the time the indicator tells, the trout may have already spit out the nymph. It may take you a few tries to really get it, but don't worry. While a quick reaction time will help, you can still catch some fish when you move slowly.
Strike lightly
While you should strike as quickly as possible, you should also do so lightly. If you strike too hard, it may cause the following problems:
If you miss, you will yank the nymph out of the drift. If you tug gently, it could drop back and catch a different trout.

You may end up snapping your tippet and losing either the fish,the fly, or both.

When you tense your body, you slow your reaction time.
Minimize slack line
If your line is too slack, you will miss precious time you need by picking up the line and not setting the hook in time. While you need some slack, you don't want to go overboard; you should be able to raise all of the slack out by raising the rod-tip only a slight amount.
When you want to try Colorado fly fishing, contact Kirk's Fly Shop in Estes Park today!